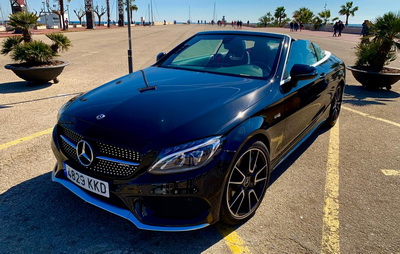 Tell me, who doesn't like this bright and colorful corner of the world? Once you visit the Iberian Peninsula, you will come back here again. And no matter what time of year. Holidays in Spain in October are a great time for sunbathing, gastronomic experiments and visiting historical monuments.
For objective reasons, Russian tourists like to be here. The hospitality of the Spaniards, amazingly delicious cuisine and luxurious clean beaches.
Hire a car from a serious company to see and ride the scenic spots more.
This will provide you with the following benefits:
The ability to plan your route without being tied to the schedule of the bus, train and other public transport.

Freely manage time, not depend on conventions.

See more beauties, stop by in small towns, get acquainted with the real life of the Spaniards.

There is no need to carry suitcases and bags, you can put things in a roomy trunk.

Stop at any place you like - have a cup of coffee, eat delicious paella and continue at any convenient time.

We recommend renting a premium car, as they are always in perfect technical condition. They won't let you down in the middle of the road, as it can happen with a car below.

It takes very little time to complete the necessary documents and you can go on a journey by a smart car. Make your stay not only comfortable, but also beautiful.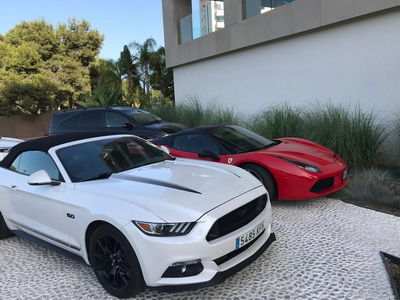 The autumn month is much more pleasant in all respects, there is not a large concentration of tourists, it is not so hot, but you can also enjoy the soft and not scorching sun. Walking in the sights is especially good, there are no queues, you will calmly walk around the famous historical places.
Weather . In every corner of the Kingdom it is different. Keep in mind that the country is large with plains, mountains, coasts, of course, that there will be minor differences everywhere.
Of course, at the end of the month, autumn comes into its own and gradually gets colder than in the beginning and middle.
Anyway - this is a real velvet season and you will enjoy it anyway.
Northeast. Zaragoza, Burgos
The weather conditions here are not entirely predictable, it can be very warm already closer to November. The average thermometer is approximately +20 - 23 ° C. In the city of Zaragoza, it is located to the south, there are jumps from +25 to + 30 ° C. It is not uncommon to lower the temperature to +10 ° C. Almost no rain.
Mediterranean coast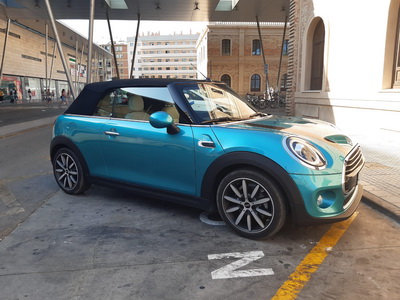 Barcelona . The first half is warm from 24 to 26 degrees, but the second half is already capricious and unpredictable weather. +12 rarely happens, but the accumulation of gray and gloomy clouds, wind, and rains is quite possible. Water is more or less pleasant from +18 to +24. But travelers are not afraid of such differences, they still swim and engage in water sports.
Valencia is a hot city, the air warms up to 30 ° C. The sea is warm, there is practically no rain and the sky is rarely cloudy. The Malaga is influenced by the Atlantic Ocean, during the day it is quite hot +26, often +30 ° C. Water from 17 to 19 ° C. It is almost always sunny and there is no rain.
Madrid . It is difficult to predict, closer to November you can feel +15 ° C, it rains, but mostly sunny and warm. If we talk about the islands, then everything is stable. Tenerife will please in the daytime + 24-29 ° C, at night +21 ... 24 ° C.
Canary Islands can meet you on cloudy and rainy days. Water procedures are quite possible, but a cool wind can cause some discomfort.
Balearic - Majorca, Menorca and Ibiza. The average is from 26 to 28 heat during the day, night + 23-30 ° C. It keeps warm until the beginning of November, and then unpredictably. The sea is 24 ... 25 and a storm is possible.
Therefore, the best option is walking and getting to know the local flavor. Everyone who finds themselves in this wonderful state understands that basking on the beach is not the only place where it is pleasant to spend a vacation. Curious tourists want to know more about architecture, historical heritage.
Every corner of the country is a work of art with monasteries, temples, palaces and narrow cozy streets. If we talk about the historical heritage, then Iberia is second only to Italy in Europe.
Where to go, what to see
Barcelona. An unusual city that is famous for its attractions.
Park Guell is worthy of attention, because it was created by the great Antonio Gaudi. A world-famous architect created a fantastic planet from decent houses, fancy benches and sculptures. You find yourself in a fantasy world where you will feel like a child.

Sagrada de Surname or the Temple of the Holy Family, its exposition of authorship, a masterpiece of Gothic architecture, will not leave anyone indifferent. It impresses with the subtlety of the created details and scale.

On the Rambla Boulevard, life is full of cafes and restaurants, and passers-by are entertained by mimes, there is a festive atmosphere here.

Museo Pablo Picasso. Esthetes and admirers of the artist, the founder of cubism, will receive unforgettable pleasure when reviewing the master's works created in different periods. The exhibition contains more than 3000 paintings by Picasso and even children's drawings.

"The Cathedral of the Holy Cross and St. Eulalia" in the Gothic quarter, impresses with its exterior and interior decoration. Be sure to climb to the very top to the dome, from here a panoramic view of the city opens.
Madrid. Prado Museum.
Connoisseurs of art and sculpture, seek to visit the walls of the Prado. He is of great interest to art critics and tourists, his best collection of painting masterpieces from around the world. Previously, the National Museum, bore the name of the Royal, was founded back in 1819. The building was designed by Juan da Villanueva, a talented architect. He built a real example of architecture. It used to be the home of the natural sciences for the monarch Charles III, and later, at the behest of Queen Mary, they created an amazing gallery, the best in Europe. More than 7,600 exhibits, about a thousand sculptures and prints of 4800 drawings are presented here. Some copies are stored in specialized repositories. Recently opened new halls for visitors. The total territory today is 58 thousand square meters.
Your attention is the work of various European schools: German, Italian, Flemish, British, most are Spanish.
Famous masterpieces of artists:
El Greco - "Adoration of the Shepherds";

Diego Velazquez - "Menin";

Francisco Goya "Portrait of the Family of Charles IV",

"Garden of Earthly Delights" by Jerome Bosch and many many others.
Girona
Temple of San Feliu, where a replica of the sculpture of the Lioness of Girona is located. Legend has it that if you kiss her in a place ... below the tail, then all your cherished desires will certainly come true. For the persistent, they even installed a staircase to make it easier. Ancient streets of the Jewish Quarter with labyrinths and many souvenir shops. Walk to the main street of St. Lawrence, they say here, the openings in the walls for the Mezuzah are preserved - these are boxes for small scrolls with lines from the Torah. Now this is a fashionable quarter where wealthy people live.
The Muslim heritage is visible, almost everywhere, as you know, all mosques were rebuilt and changed to Catholic churches. Arab baths of the 12th century, with an unusual shape of the pool and despite the name, do not belong to the Moors and are built in the Romanesque style.
Cathedral. To enter here you need to overcome 90 steps, where each of them forgives a person his sins.
Marbella is a luxury resort on the Costa del Sol. From here it is convenient to travel to Torrevieja, Cartagena, Malaga and more. Here the weather, beaches, nature - everything is conducive to relaxation, even in the autumn.
The cultural center is located on the Plaza de los Naranjos or Orange Square, with small cozy cafes. Near the municipal museum, the tower "Hermite de Santiago",

Monument to the famous ladies man Don Juan.

"Santa Maria de la Encarnacion" is a magnificent temple built in the 17th century.

Luxurious Puerto Banus area, where you can admire chic expensive yachts, make a photo shoot against the backdrop of luxury. In the evening, drop by one of the nightclubs and restaurants, taste the Mediterranean cuisine with a unique sangria.
​​​​​​​
Festivals and concerts
National Day of Spain, held on October 12, organizes noisy festivals, fairs and concerts.

Oktoberfest beer fest in Barcelona.

Girona. International Theater Festival "Temporada Alta".

Earlier this month, Valencia Day with a large and colorful parade and many others.
All holiday schedules, prices, see the corresponding sites. Events, ticket purchases and the exact time of each event should be clarified in advance. You can read reviews and impressions about the adventures on the forums.
We talked about some interesting locations that you should visit, but this is far from all, it is better to come and gradually explore each unique and colorful region of the Kingdom.
With reliable transport from our company, this will be easier and more enjoyable.